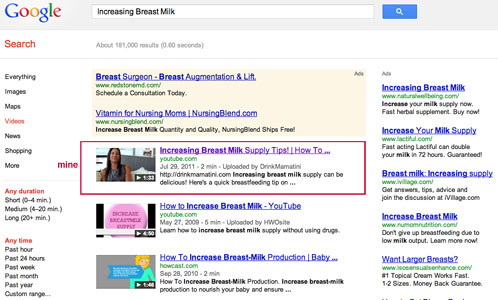 Video marketing can pay off for your small business, but this depends on how you are are measuring it.
I created and ranked this video for Mamatini. It is the #1 video for multiple Google keywords. It is in the top 1% of videos, as most videos don't get more than a 100 views in their lifetime. Read how to get more views on youtube.
You would think great, right? Wrong.
You see whenever I ask if anything has resulted from the videos, I often hear back no. I was pretty bummed and shared this sentiment with a friend. She asked me one question that made all the sense in the world "How Is She Measuring Success". Great question. Sometimes, you need to ask the right question.

I'm awaiting the results from that client. But it made me think about my own videos. When my goal of doing video marketing is to get a sale, and I put out a video, and I don't get a sale, I think the video failed. But getting a sale is just one way to measure the success of the video. Here are some other ways to judge if a video is a successful or not.
Web Traffic. Did viewers click on your link after viewing the video?
Subscribers: Did you see an increase in subscribers to your channel?
Comments: Did you get a comment?
Channel Views: Did your channel views increase?
Video Views: Is your video being embedded elsewhere?
These are other measures you can use to measure success. I know you're thinking, lady I want a sale, I don't care nothing about no comments (Yup. Double negative;-). I thought the same thing. But I'm learning that selling takes time, and doesn't happen on the 1st try as much as I'd like it to. So little indicators like those comments, give your video a vote of confidence and may be laying the foundation for a future sale to come.
One of the most effective tools to measure your video effectiveness is Google Analytics. It's pretty daunting in the beginning. But you only need to know enough to get around. The best advice would be to sign up for a free account. Add your blog, and then click on the traffic tab to see where your traffic is coming from. This will help you to measure the effectiveness of your video marketing.
Secondly, if all those measures are showing positive indicators, maybe you should think about your conversions. Is there a break down in your sales process that is causing less sales. I'm exploring this now and will reveal my results soon.
How are you judging if your videos are successful or not.