Record Your Business Video Cards With Jalanda
Limited Availability: Only 10 Women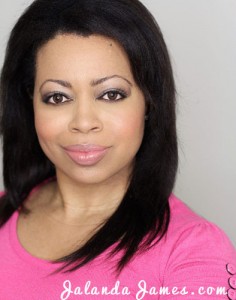 Do you feel like people just don't understand how amazing you are. If they did, they would sign up faster instead of sitting on the fence. Right?
It can be frustrating marketing a small business as a soloprenuer. You've probably been testing various strategies and know how frustrating marketing results can be? You find it overwhelming cutting through all that marketing noise.
You need a simple marketing system that works for you? This page marks the beginning of you speeding up your sales process with a Video Business Card. It's a custom created video which is designed to attract your ideal client while separating you from your competitors. More about that later.
You deserve to share your amazing talents with the world and to get your message out there. But if you're like any of the women entrepreneurs I work with, you sometimes struggle with articulating what you do in a way that makes you stand out from your competitors.
So instead of expressing yourself succinctly and getting others excited to work with you, you market yourself using the same words and methods that your competitors are using. Sadly, you come across looking like everyone else. Or worst, you convert a tiny fraction of those that you could.
You need a tool that will reinforce your unique value – be noticed, valued and remembered.
Video Increases Conversion Rates
StatVisitors who view product videos are 85% more likely to buy than visitors who do not. (Internet Retailer, March 2011)
Shoeline.com saw a 44% increase in online sales conversions by using videos to showcase their products.  (Internet Retailer, January 2009)
Ice.com found that viewers who chose to view video converted at a 400% increase over those who did not. (Internet Retailer, December 2009)
Bad video make do more damage than good.
For example, think back to when you were choosing your business cards. Did you print them out yourselves or did you get them professionally done. Probably professionally done. Now think back to a time when someone went the cheap route with their business cards. What did you think after they gave it to you? Did you question their professionalism? Did you take them serious? Can your time be used more effectively?
Your need a simple markteting solution that works for you. You do it once and it speaks for you for days, months, years to come. A Video Business Card can help you do that.
What:
For a limited time, I'm going to create a professional Video Business Card that will not only represent your brand well, but will also clarify your message.
Who:
For 10 women entrepreneurs, I will create a professional Video Business Card  that will build up your expert status and make it easier for you to convert prospects into clients. I will work with you to craft your "video business story" so that you know exactly what to say to reach your target market. Scared? Don't worry you'll feel comfortable in front of the camera using my secret relaxation technique.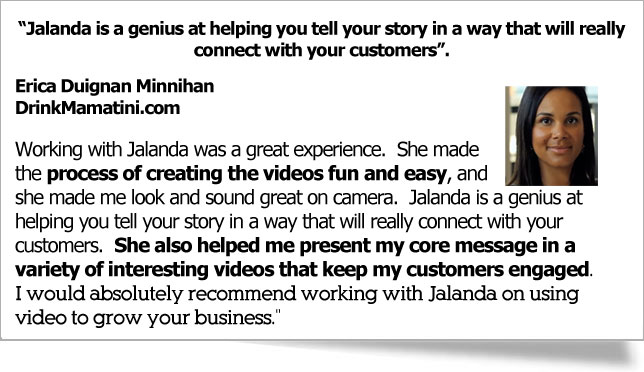 The Catch:
The only thing I ask is that you give me a testimonial after receiving your video and an additional testimonial 3 months later to report your video results.
I only have 10 "Video Business Cards" at $97, so you'll need to take action today to reserve your spot. Sign up for your spot right away – while you're here – and let me help you build lasting trust with your clients and prospects.
Video Sample #1 (with photos)

Video Sample #2 (without photos)

Frequently Asked Questions

Where is the video shoot?
At my location in New York City.
When are the shoots?
The shoots will take place in March and early April only.
What do I wear?
I will send you a prep sheet for your big day.
What's Included:
1 60 Second Video
1 Song (my choice)
1 30 Min Video Filming Session
1 Mini Video Story Strategy Session
1 Round of Minor Edits
No Photos
Extras (Optional)
Additional Video Time (completed video) +$100 per 30 seconds
Photos +$100 per 7 pictures
Remove video by JalandaJames.com in the last 4 seconds of video +$400