Are you expecting your coach to be Super Woman?
I've been running into a lot of coaches lately. These days it seems as if everyone is a coach these days.
You know how for every action there is an equal and opposite reaction. Yup I know of Sir Isaac Newton via Oprah;-).
Well, I was telling a friend that the people who must be upset most about all these coaches are therapists. Therapist used to be the ones people turned to get help with their problems and now there are soo many choices for people to choose from.
And Thank God. Sometimes a Freudian approach is less helpful than a present day marketing lesson. But I digress this is not a post about whether coaching is better than therapist.
So what the heck are you wasting our time with lady?
Ok chill, here it goes. I was inspired to write this post because of this comment left on http://www.anastasia-valentine.com blog about mentors.
The reason this post stood out to me was because a lot of coaches are charging extraordinary fees these days.
It's hard to tell who the real deal is. They all have impressive sites and copy.
I've heard of so many horror stories from people paying $20,000 for coaching that didn't serve them. But here's a big reason why.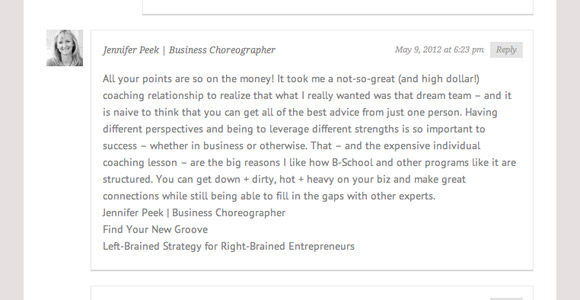 I agree with Mrs. Peek that "it is naive to think that you can get all of the best advice from just one person."
That's why I'm an advocate of choosing the right coach for the right job. Otherwise, the general coach operates more like a foreperson. They can help you manage all those areas you need help with, but you'll still need experts in those other fields to complete the plan.
Enter the term Dream Team.
So running a business can be a solo venture, but a faster, more effective way to run your business is on the advice of a Dream Team.
This revelation has been so valuable in how I choose whom to work with. I'm able to choose more strategically.
I'm currently building my dream team on a budget and a prayer. I hope to share more details in the future. After spending thousands of dollars on the wrong mentors, I'm suddenly learning how to chose the right mentors. Yea!
In the coming weeks, I will be interviewing the lovely Natasha from Natasha Jewelry.com. She has been in business for over 10 years and she's going to share her experience about Mentors. Stay tuned.
When choosing your coach, think about what item you really need addressed. I've discovered there are a crap load of speciality coaches. Did you know there is an accountability coach, a closing coach, a product launch coach, where do I start coach? Choose wisely, because there are a lot of coaches out there. But a girl can never have enough "Coach"es right;-). photo by: slgckgc
How do you pick a coach?